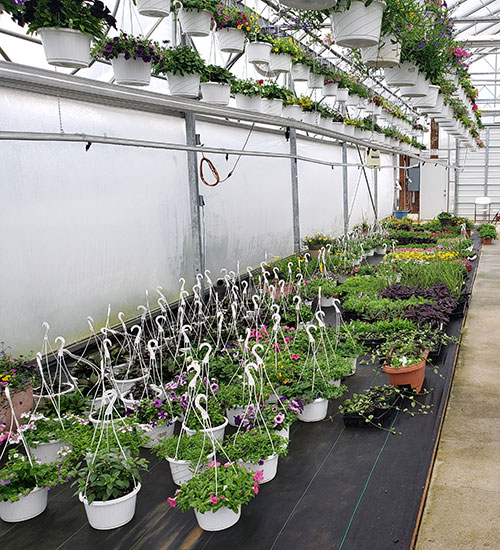 Granny Hatfield's Greenhouse  Now Open for 2022!!
Welcome to Granny Hatfield's Greenhouse! Just like LeSage Natural water, the purpose of our state-of-the-art greenhouse is to give those with disabilities opportunities for employment.
"Granny" is actually Celia Hatfield, manager of the greenhouse.  
This year's flowers promise to be better than ever!  We are planning to stock:
Even More Hanging Baskets!  Our baskets have gotten popular, so we promise to have a larger variety available!

Planters that are perfect for your porch or deck. Also great for Mother's Day gifts!

Bedding plants for your garden and flower beds

Vegetable plants - tomatoes, kale cauliflower and more!

Herbs - Basil, Oregano, thyme, and more!
For our flowers, we plan to have a variety of popular plants available, including:
Impatiens

Geraniums

Petunias

Begonias

Verbena

Fuscias

Snap Dragons

and More!
Check back for more updates on our 2022 plants. Start planning your gardens and flower beds now! Spring is here and summer is coming soon!!